Visit By Appointment
The following homes in Nottinghamshire & Derbyshire have householders who are happy to arrange for you to either visit them by appointment, or to have a chat on the phone with them about what they've done to their homes. To get in touch with any of these homes please contact Caroline Harmon on: caroline.harmon@mea.org.uk
Solid Wall Insulation & Rainwater Harvesting, Beeston
A detached Edwardian home in a conservation area, with some internally insulated solid walls. The owners have installed a number of both low and high tech measures, including both cheap and more expensive measures:
Solar panels
Double-glazing
Internal insulation of outside walls of some rooms and some floors
Loft insulation
Blackout blinds and self-closing hinges on some doors to keep heat in rooms
Rainwater harvesting for flushing toilets and for garden use
Straw Bale Extension & Self Installed Solar Thermal, Chesterfield
An 1890's end terraced. Household bills have dropped by about 20% despite adding an extension.
A self-built oak framed straw bale extension
Solid wall insulation fitted internally
Solar thermal panels which the owners installed themselves
Triple glazed wood framed windows
Thermal boards and cork above the concrete floors
The house is heated by electricity and a wood burning stove
Several Renewables on a Stone Built House, nr Wirksworth
This traditional stone built house has been extensively extended and sustainably improved, aiming to be as near as possible to zero carbon. It was built in approximately 1760 with three extensions added in 1950s, 1970s and 2008.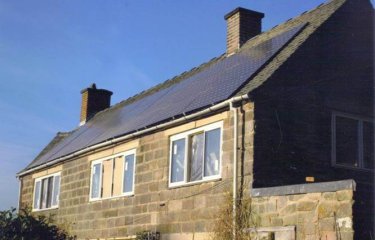 Substantial high performance insulation on all walls, floors and roofs
Underfloor heating everywhere
Ground source heat pump, 12 to 15 kW (output) single phase.
New more efficient wood burning stoves
4.4 kW peak photovoltaic panels on south facing roof
5 kW wind turbine
Sunpipe to enclosed bathroom area 
High performance double glazing with thermally broken frames
Maximum recycling of materials
Timber Frame Bungalow with Recycled Materials, Hope Valley
This bungalow is a total rebuild on the foundations of a 1930's asbestos clad, timber frame bungalow. The house was designed to be beautiful and comfortable to live in but also as compatible with sustainable living as the owners could make it. They wanted to reduce their impact on the planet while enhancing quality of life and biodiversity. Decisions about the build considered the local situation, thinking about issues such as enhancing local economy, reducing resource use, energy conservation and harvesting, use of non-polluting materials, and the value of wildlife and beauty.
Recycled and local timber
Recycled slates
Passive Solar design
Solar hot water and a wood burning stove
Solar photovoltaics
Rainwater harvesting
To get in touch with any of these homes please contact Caroline Harmon on: caroline.harmon@mea.org.uk
Latest News
  This weekend (31st March-2nd April), as a part of the Energise weekend of events, eight...
Sustainable Hayfield is organising a minibus tour of three homes on Saturday 5th November 2016. The...